RAF Bomber Aviator Ginger Men B3 Bomber Jacket
Made With Real Sheepskin Leather and Real Shearling. This item has never been used or worn but is made with Pre Loved Real Shearling to perfection which gives it a brand new look. There could be some variation in the color and texture of the inside fur lining.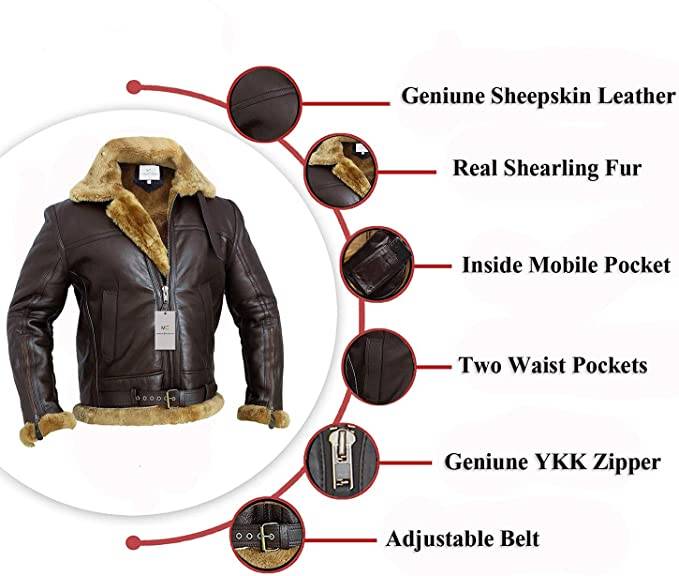 RAF Sheepskin Bomber Jacket follows the 1938 Irvin Airchute Co. pattern. It was worn by the pilots of the RAF during the Battle of Britain. RAF Sheepskin Bomber Jacket provided the warmth and freedom of movement needed during combat. Crafted from hand-cut, supple sheepskin pelts.
This breathtaking premium B3 RAF jacket is genuine 100% premium leather in dark brown color. On the outside, it has a high-quality leather and on the inside, it has a cozy, smooth, and Real Shearling lining to give you the utmost comfort in the extreme.
Specifications of RAF Bomber Aviator Ginger Men B3 Bomber Jacket
100% Sheepskin Leather and Sheep ( Real Shearling) Fur 

Extremely Soft, Warm, and Durable, Ideal for Extreme Winters Adjustable Straps and Buckles on the Collar and Waistline, Angled Waist Pockets

Never Worn Before But Made with Pre-Loved Reconditioned Shearling Full Sheep Fur Including Sleeves (Real Shearling)

RAF Style Collar with Front Zip Closure and Zipper Sleeves

Zipper closure
Size Chart of RAF Bomber Aviator Ginger Men B3 Bomber Jacket