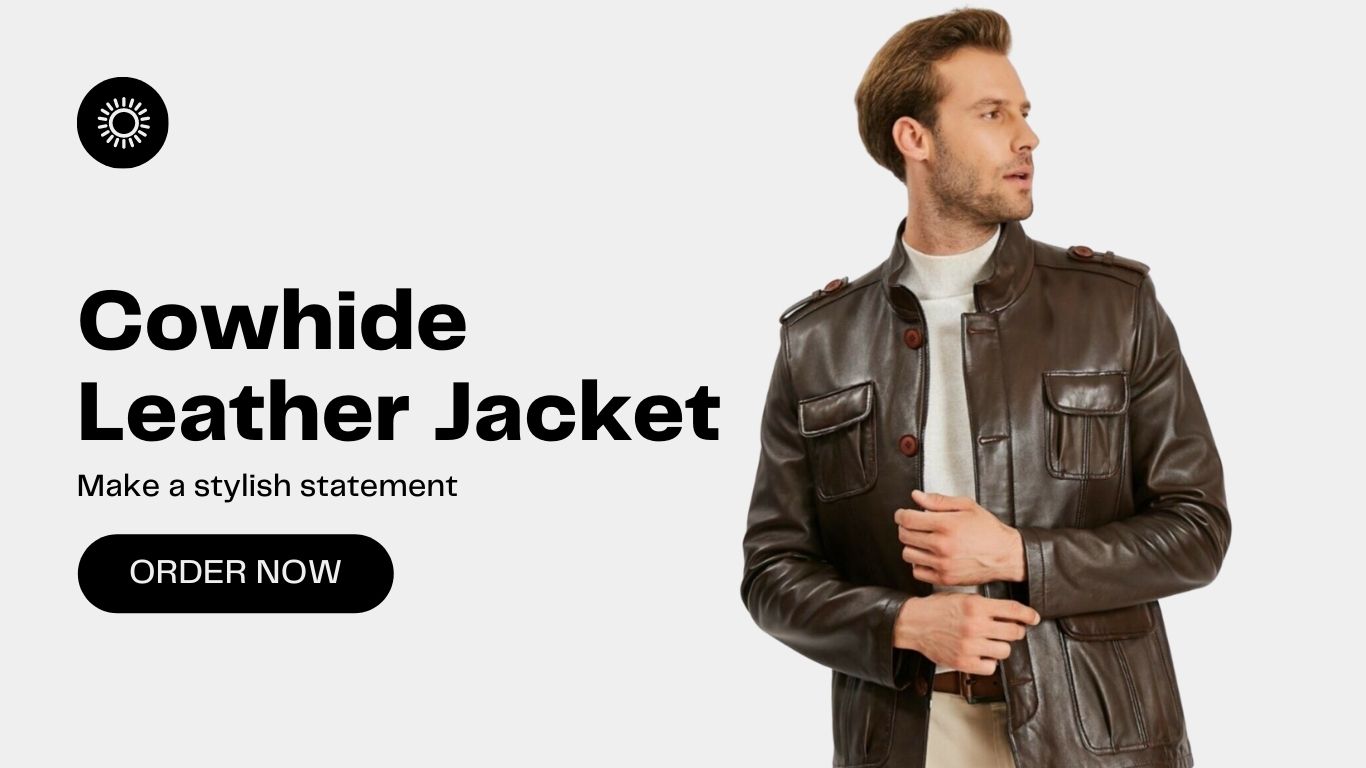 The Cowhide Leather Jacket has its own identity, and most people prefer this style. It is available in different styles for both men and women. Quality cowhide leather is used to craft the jackets to ensure its long-lasting.
Cowhide Jacket
When it comes to outerwear for winter, cowhide leather jackets are the most favorable and preferred choice for men's jackets. They provide a soft and comfortable feeling with great warmness, and no other hide can offer the same quality.
Cowhide jackets offer resistance which makes them superior to other leather. Many styles of leather jackets such as the bomber, motorcycle, and distressed style are made of this type of material.
Most of the premium quality jackets are also built from cowhide leather which can be used at freezing temperatures. Overall the best material to make valuable items for the winter season and we are offering it with Extra savings and Free Shipping.
Men's Cowhide Leather Jacket
The range of men's cowhide leather jackets at The Perfect Leather is every bit stylish as they are functional and eclectic. An interesting mix of black, brown, and tan leather jackets and contemporary cool green and burgundy bomber leather jackets for men.
An incredible mix of finishes that include distressed and vintage elements as well as surprisingly cool features of hooded and shearling style for men around the world. Experience a sense of uniqueness through the style staples that exhibit quality leather and craftsmanship, design and detail, and finishes that are just as interesting as the leather jackets themselves.
FREQUENTLY ASKED QUESTIONS:
Is cowhide leather expensive?
Products made of cowhide are highly durable and much more affordable than leather from other animals, making it a relatively less expensive option. However, it still has the same level of durability. You keep in mind that longevity cowhide leather is the best bang for your buck.
How do you care for cowhide leather?
Spot cleaning with a mild detergent or saddle soap is the best way to keep your jacket stain-free. Make sure you test on a small hidden part of the jacket to see how it reacts and then apply the same method wherever required. After cleaning, don't forget to apply a leather conditioner so that the material remains hydrated and does not crack or dry up.
Is cowhide leather waterproof?
Leather naturally absorbs water and can offer some amount of protection from water due to the sturdy material, but never use it as a rain jacket as the luxurious material is prone to dryness when it comes in contact with water and will crack as it dries. Therefore, leather cannot be waterproof.
How long does cowhide leather last?
Cowhide is highly durable, and some people have also reported using it for decades passing it down from generation. So, it depends on the quality and how you maintain it. Another thing about cowhide is that the older it gets the more supple and luxurious it looks.
Is cowhide leather durable?
Cowhide leather is highly durable and most often used as a part of motorcycle gear. This will let you evaluate how strong of a material it is. On the other hand, it is also very long-lasting and can stand the test of time. Products made of cowhide tend to get more supple after breaking in.
What is cowhide leather used for?
Cowhide is used for loads of different products, including jackets, shoes, wallets, furniture, car interior, belts, etc. It's highly preferred for its cost-effectiveness and the high level of durability it offers for such a minimal price. No other animal hide comes even close.
SEE WHAT OUR CUSTOMERS ARE SAYING
I bought it for my partner, impressed that they emailed him to confirm measurements without giving away what I had purchased as a birthday surprise. He loves it but asked me if there was an all-around belt jacket. I found a moto jacket that similar to what he describes. I'm going to buy that too.
James Davin — Cowhide Jacket Mens
I've been searching for high-quality leather that fits me for so long. I finally found it in this Cowhide jacket! If you have an athletic built with broad shoulders and a slim waist, this is the leather jacket to get! It accentuates your physique very well, not tight or loses. It fits just like it should and feels very comfortable! I love it!
Robert Campbell — Distressed Cow Skin Jacket Mens
I love this jacket. The leather is super soft, and the lining is excellent. Two inside pockets are large enough for a wallet or phone, and two outer pockets are deep as well. The Large fits me perfectly. I have broad shoulders and back but small waist. The customer service was also exceptional at answering all my questions, which made me feel confident about this purchase.
Micheal Cardoso — Mens Cowhide Black Cafe Racer Jacket
Good Fit and Finish; excellent quality It's better than the Leather Stores you'll find in the Malls and such. It will last me a lifetime until it is stolen like my last Leather Jacket. I will be more diligent with this one.
Charles Wiseman — Distressed Bomber Jacket
Nice and soft, good-looking jacket. The jacket is good to ride on a motorcycle and keeps the wind down. I will also keep you warm on a cold day. I found no manufacturing flaw. The jacket is perfect from all angles. Overall a really good jacket.
Gregory Toller — Distresses Casual Leather Jacket
Fine real leather jacket which fits me just as expected, it has enough inside and outside pockets for cell phone, power bank, wallet etc. It also has the nice leather smell that does, unfortunately, disappear after some time. It is surprisingly well made for the price. You don't need to be a biker to wear one.
Timothy Mendoza — Cowhide Leather Biker Jacket