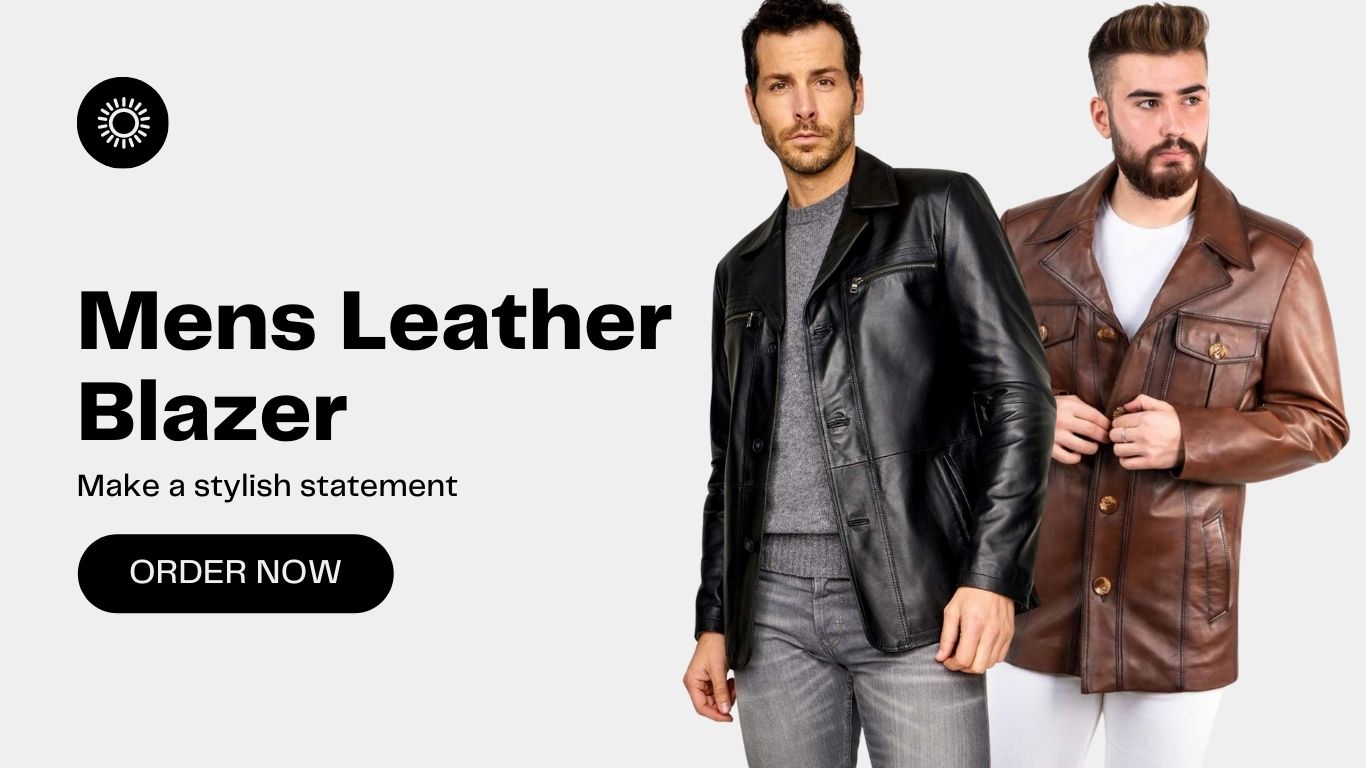 Sharpen your style with The Perfect Leather's collection of blazers and sport coats for men. Work or party, a smart blazer adds a distinctive polish to any outfit. At The Perfect Leather, we have just what you're looking for. For a sophisticated look, try our leather blazer designed with soft leather and clean-cut lines for a sleek look.
Looking for a piece that is both fashionable and functional? Our Leather Blazer is designed with quality leather for durability.
Men's Genuine Leather Blazers
Genuine Leather Blazer Mens have a quality that moves from the simple to creating detailed aspects. The Perfect Leather has a wide range of Blazer Leather Jackets for Men that echo variety due to this considerable variety that makes certain to appeal to a bulk of guys across the globe.
Men's Genuine Leather Blazers can offer you whatever from functionality, style, or design that is personalized. The Perfect Leather being an open field houses a popular style of Blazer Leather Jackets for Men that have quickly caught millions in a trendsetting frenzy.
Like any Leather Jacket Blazer Mens, Men's Leather 3 Button Blazer has a minimalist appearance that enables effortless design in various methods. On the other side, it includes style elements, either subtly or through stunning detail, that produce an intriguing wardrobe staple for many.
Look Edgy With Leather Blazer Men
At The Perfect Leather, much of the Men's leather blazer for sale, especially our Brown Leather Blazer for Men & Black Leather Blazer Jacket Mens , are made from either cowhide or buffalo hide, lambskin or sheepskin, treated to attain an aniline or semi-aniline state with either a distressed surface or a burnished finish, utilizing products such as nubuck, Nappa etc.
Black Leather Blazer men with Graphic Tee & Black Chinos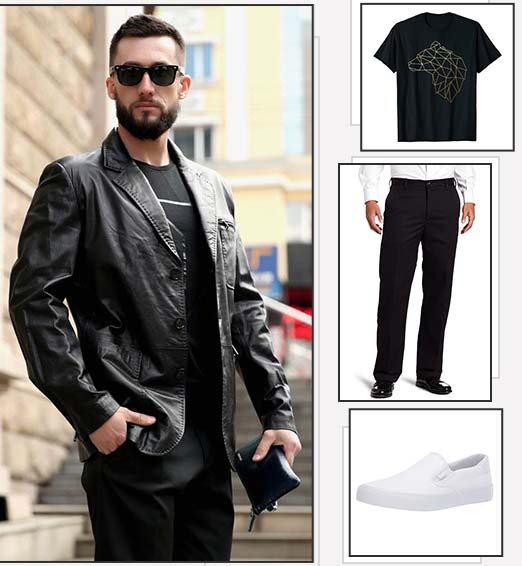 The first combination is quite simple and perfect for a daily commute, it's tilting more towards the casual side with a leather blazer, minimal graphic t-shirt, and black chinos, and you can complete the look with a pair of comfy white loafers.
Brown Leather Blazer with Button-up Shirt & Dark Wash Jeans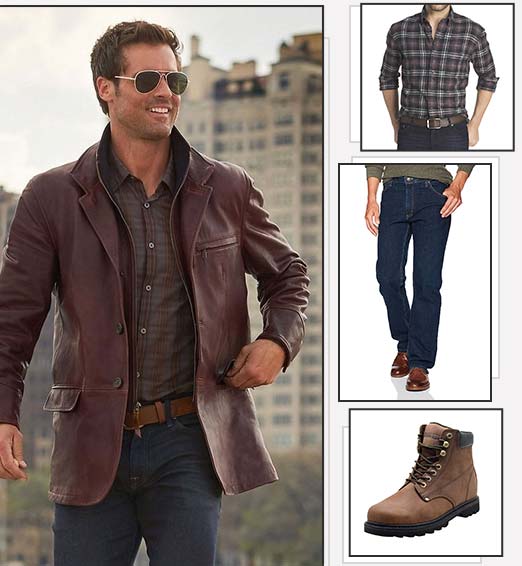 The second style is more of a rugged outdoor look; don't be afraid to add some colors to the ensemble. Start with a muted tone button-down shirt, medium-washed jeans, and a brown leather blazer. Finish the look with a pair of brown leather boots and matches your belt with it, and you have the perfect fall look.
Black Blazer with Turtleneck & Black Jeans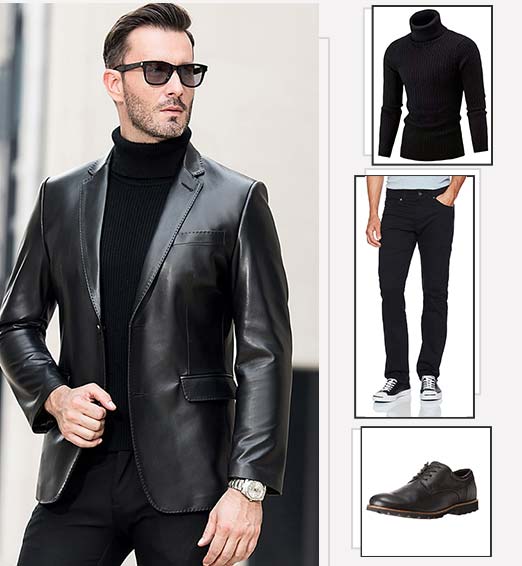 The final look is perfect for winters and also the most formal of the three. Start by combining your refined black leather two-button blazer with a black turtle neck and slim-fit jeans; complete the all-black look with a pair of oxfords. Add some accessories to the mix like sunglasses and a wristwatch to elevate your style.
To wrap things up, the combinations mentioned above are just to give you a basic idea of how to layer your outfit the right way. However, you can always add a bit of your creativity to the mix by trying different patterns and designs while keeping these combinations as a foundation.
FREQUENTLY ASKED QUESTIONS
Are leather blazers in style?
The outerwear is not tied to the trend which means it will never go out of fashion. You can wear it with your casual outfit when you need to look dressier.
How much is real blazers jackets?
Blazers made of lambskin cost almost the same as leather jackets, the only difference is they serve a different purpose.
What should I look for in a men's leather Blazer?
Some details to look for are the number of buttons and type of lapels, which will determine whether the style is vintage or modern.
How do you wear a black blazer?
The black blazer is quite versatile and easy to pair with almost every color; you can wear it with turtlenecks, button-down shirts, and a t-shirt.
Is a blazer made of leather worth buying?
Yes, because you get the durability of a leather jacket and formal style of a blazer, moreover it's also functional outerwear that can keep you warm.
Are leather blazers good for winter?
Leather blazers are perfect for fall but you will require some extra layering of wool or fleece for winters.
Can I wear a leather suit jacket in rain?
Leather is a material that is not naturally waterproof and may get ruined. However, you can apply waterproofing products designed for leather.
PEOPLE ALSO ASK
Are leather blazers attractive on guys?
It is like a sports coat. It can be worn with a shirt or turtle neck underneath and a pair of jeans. It's also dressier than a regular leather jacket and more casual than a blazer making it an attractive choice for guys.
How a leather blazer should fit?
Leather blazers are slightly more relaxed than a suit jacket or blazer because they're meant to fit loose enough to allow for layering underneath. Here is how it should fit.
Lapels: The lapels should sit flat on your chest. If you see it bent or split further away from each other, it means the coat is too tight.
Waist: The coat should drape well when buttoned if it looks sloppy or creases around the waist, it means the blazer is not the right fit.
Sleeves: The sleeves should end right at your wrist or a couple of inches below any lower, and it will be considered too big.
Length: The coat should reach a few inches below your waist, not entirely covering your rear.
What is the difference between a sport coat and a blazer?
A sports coat is meant to look more casual and rugged; it comes with a loose-fitting that allows for layering underneath with a thick sweater. while, blazers are made of lighter fabric and are meant to look more formal than a sports coat. Blazers also fit closer to the body and have a structured appearance.
Can I wear a black blazer with blue jeans?
No rule states you shouldn't wear blue jeans with a black blazer. It's a fantastic combination, keeping that your jeans are medium wash and minimal, avoid baggy or ripped jeans they're not a good fit and take away the charm of the outfit.
Should Blazer be darker than pants?
Wearing a darker blazer than your pant is a safe way to go. However, you can still look dashing with a dark bottom and light blazer. All you need is to create the right contrast with your shirt, pant, blazer, and shoes.
Want Custom Leather Blazer?
Not discover Genuine Leather Blazer Mens the in-store precisely as you'd like, you can always request a Custom Leather Blazer that our Team will be glad to help you with. Making a request is just a click away. So how about making a request today.